Jose Aldo reveals grueling weight-cut process for upcoming Bantamweight debut
News
05 Dec 2019, 12:26 IST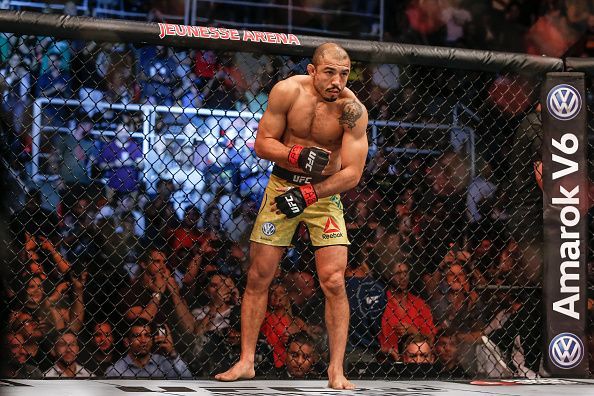 Jose Aldo is all set to make his Bantamweight debut at UFC 245 when he takes on the most recent 135-pound title challenger Marlon Moraes. Many have been skeptical about the MMA legend's move to the lower weight class, especially given the fact that he's had issues in the past making 145 Lbs.
He revealed that he has been devouring two pounds of salad every day to make 135. He told the media (via MMA Fighting):
"Yeah, I've always done that, but this time I can't [eat steak].
"Only if it were a vegan steak house, salads only. I'm eating that a lot now, almost two pounds of salad a day. But I'll be able to do that the Saturday after the fight."
He further stated:
"I've been on a diet for two months and we have changed a lot already, but it hasn't been that different. We're doing another diet this week, but it's just fine for me. I'm eating on the right time, eating healthy food only, and that's keeping me really strong."
It has undoubtedly been a brutal cut for Aldo and a recent photo posted showed the Brazilian in the middle of the cut and he looked completely drained of energy. Many believe that the Bantamweight move is simply an "experiment" and not one that will last very long.
Moreover, he's taking on a very dangerous opponent in Marlon Moraes, so he may face the same fate that the Middleweights who jumped to Light Heavyweight have faced.
Either way, Aldo's teammate recently spoke to the media and said that Aldo at Bantamweight has far more speed and the same punching power, which will serve to his advantage. We will find out at UFC 245 whether the move to Bantamweight is truly an experiment or not.
Is Marlon Moraes too big an opponent for Aldo's Bantamweight debut? Normally, a transitioning fighter would start with a lower-ranked opponent, but given that the Brazilian is a former champion and that it is UFC – there are no tune-up fights as such. Will Aldo be successful at 135?
Fetching more content…